Are you thinking about hiring a Financial Planner? If you're under 45, this is a must read…
By: Gregory Weimer, CPA and Chuck Ziants, Wealth Managers
Managing your financial affairs and planning for retirement can be daunting no matter who you are or what your situation is. If you're like most people, your mind has 60,000-80,000 thoughts per day that could range from paying off debt or planning a vacation to of course… what am I going to have for dinner tonight.[i] The financial aspects of your life such as budgeting, saving, and planning for retirement often get pushed to the side in favor of the thoughts that have more of an immediate impact on your daily life. This is completely normal, but a major mistake that people of all ages make. The earlier you begin to get your financial affairs in order, the easier it will be down the road. Your older self will be thanking your younger self one day!
In our opinion, there are three fundamental reasons when it might be time to talk with a financial planner. Notice, we said the word "might", this means that if you have had any of the following three thoughts or concerns you should at the minimum have a phone conversation or meeting with a planner. It's important to determine if it is the right fit before you jump in with both feet.
You need a basic roadmap to achieve your short, intermediate, and long-term goals.
At a high level, the financial planning process consists of helping you determine your goals, develop a plan, and invest in a way that will meet those goals. Although investments are the primary focus of most financial planners, that is not the only service offered. Through the financial planning process, you will be able to tighten up your budgeting/cash flow, plan for major life events such as having children or purchasing a new home, and put yourself in a position to meet your retirement goals. A financial planner can take all of your information and talk with you about ways to meet those goals.
You're not a "money or numbers person".
Not everyone understands finance or enjoys following the S&P 500 and that is perfectly fine! That's what financial planners are here for. There is a reason that they chose the profession they did. Just as some people want help in managing their finances, a financial planner looks to a doctor for medical advice. Having someone else help manage your finances can allow you to spend more time doing what you love.
You have a handle on your finances, but need a non-emotional third party.
There's no question about it – investing and financial planning is emotional! Wouldn't it be nice to have an unrelated party who has your best interest at heart available to you as a sounding board while you go through major life events? Want that shiny new car? Great, it can be helpful to get a neutral opinion from your financial planner. In addition, studies by DALBAR have consistently shown that the average equity investor receives a much lower return than what the actual equity market return was for the same time period. Why is that? Emotions. The individual investor often makes emotional decisions while investing that on average do not result in the best outcome.
At this point of the article, you may have already decided that you want to speak with a financial planner. Then, thought number 60,001 comes into your head… "What do I even ask a planner when I have a conversation?". This is another potential roadblock on the path to improve your financial life. Please see below for some helpful tips when talking with a prospective advisor.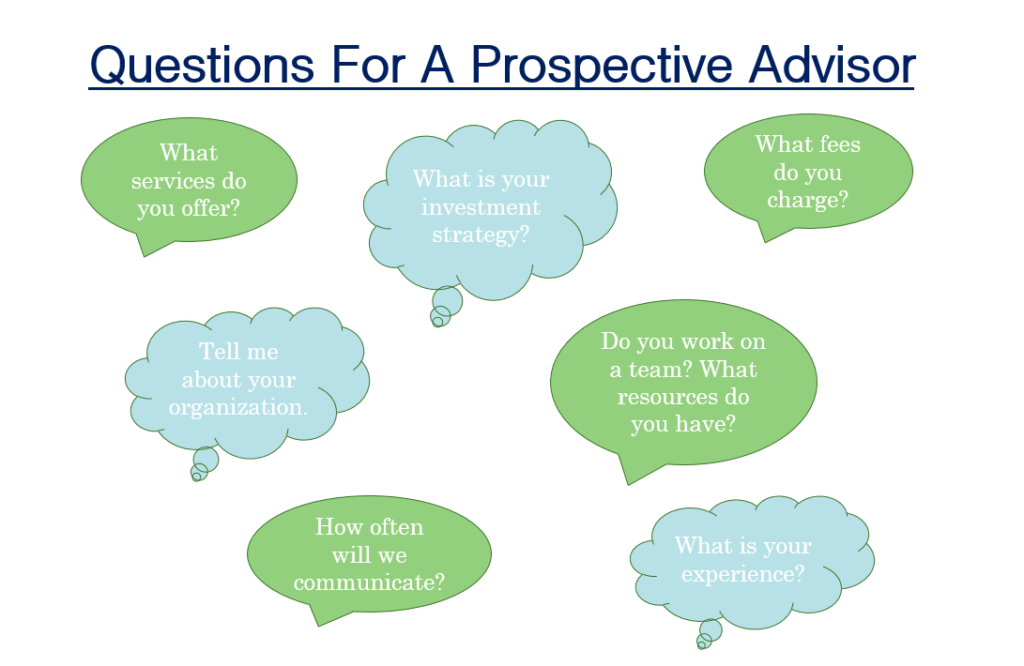 A financial relationship is based around trust and feeling comfortable with the other party. When you walk out of each meeting with a financial professional you want to have the feeling of confidence that they are putting you and your family's needs first.
There are benefits to receiving professional advice, but choosing someone to work with can be difficult and we understand that. Here at Confluence Financial Partners, you will receive professional advice that is customized for your financial goals.
If you are interested in speaking with us in greater detail, please contact us at Gregory.Weimer@ConfluenceFP.com or Chuck.Ziants@ConfluenceFP.com
[i] https://www.successconsciousness.com/blog/inner-peace/how-many-thoughts-does-your-mind-think-in-one-hour/