you have a retirement vision
and we'll help you realize it
complimentary retirement
readiness workbook
Get financially prepared for retirement
Discover your ideal retirement lifestyle
Explore the ins and outs of retirement income
Optimize your taxes: seize and plan opportunities
Ensure insurance coverage for your
retirement goals
PLUS – Fill out or bring this workbook
to your first meeting with a Wealth Manager!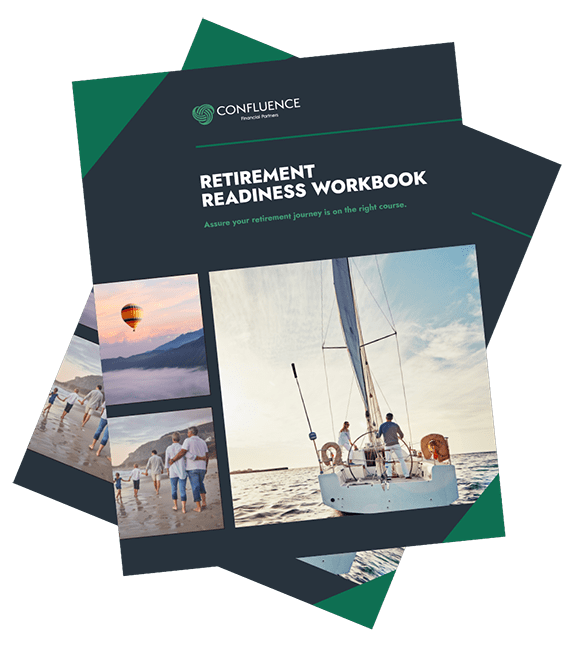 begin your journey to retirement fulfillment
At Confluence Financial Partners, we believe in Maximizing Lives and Legacies.
We look forward to being your trusted guide as you plan for your next phase of life.
Embrace the future with confidence, and we'll craft a retirement plan that's uniquely yours.
Let's work together
Our Wealth Managers are passionate about helping individuals and families
approach retirement with confidence. Our Wealth Managers are here to:

LISTEN & UNDERSTAND

SIMPLIFY THE COMPLEX

EMPOWER YOUR JOURNEY

Confluence Wealth Services, Inc. d/b/a Confluence Financial Partners is an SEC-registered investment adviser. Registration of an investment adviser does not imply any level of skill or training. Please refer to our Form ADV Part 2A and www.confluencefp.com/form-crs/ for further information regarding our investment services and their corresponding risks. Additional information about Confluence Wealth Services, Inc. is available on the Investment Adviser Public Disclosure (IAPD) website at: www.adviserinfo.sec.gov.

The content on this site is provided as general information only and should not be construed as an offering of advisory services or a recommendation to buy or sell any security or financial instrument by Confluence Wealth Services, Inc. Investing involves risk; clients may experience a profit or a loss.
© 2023 CONFLUENCE WEALTH SERVICES | ALL RIGHTS RESERVED